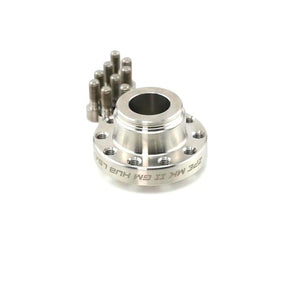 ZPE MKII Hub for LSA/LS9/LT4 w/ Titanium Screws
Regular price $65.00 Sale
The ZPE MKII hub is designed to allow for the smallest pulleys possible on factory GM vehicles. With a OD of 1.86" pulley sizes under 2.15 are possible. Hubs are machined to be within +_ 0.00015 on the hubs bore. This allows for repeatable performance on the press for every kit. The MKII hub has a 10 bolt pattern using a M5x.08 found in no other 10 bolt hub. Other features include a super compact hub, upgraded M5 bolts, and precision machining. We also offer our M5 bolts in custom Titanium 6AL-4V T30 Torx shoulder socket caps.

Hub Includes:
1 MKII 304SS Hub fits 10 M5 screws.
10 T30 Custom CNC Titanium M5 screws.